Kinky and Sidestepper downtown, Saturday 7/1, 7:00
Free, but you'll probably have to pay $5 to park.
Link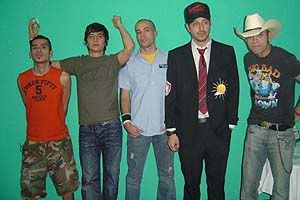 Here is the description from the
Grand Performances
website:

Grand Performances and KCRW are proud to present two genre-defying bands that have forged inroads into the collective psyche of critics and music lovers. Monterrey, Mexico-based quintet Kinky blends its juiced-up funk with rock, electronica, thick synth atmospherics and liberal sprinklings of rhythmic styles from the Americas. Bogota, Colombia-based Sidestepper's groundbreaking music marries British drum-and-bass with salsa's brash horns and fluid piano samples. The sound is Latin electronica. Get ready to dance the night away!
KCRW DJs Ariana Morgenstern and Liza Richardson will host the evening.

Click
here
for sample music clips from Kinky, and
here
for Sidestepper clips.
It's at 350 S. Grand Ave., downtown LA.